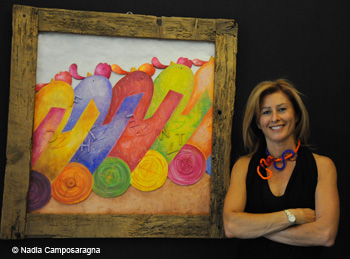 I was born in 1964
Following the linguistic high school various and different experiences trace my artistic way: I follow porcelain painting courses and graduate from the IED of Milan as an illustrator, I then collaborate with various textile design studios.
In 1992 I opened the atelier "Chi cerca trova" where all the previous knowhow adapts to the new cultural and environmental reality.
At present, together with hand painted objects in wood and porcelain I make panels, pictures and "Bois-Collage" lamps.
My job...
…old wood that speaks (tells) through a nail a crack
… the vibrating energy of colour that illuminates
... materials that change significance
…the game that becomes symbolic light irony
…tradition that regenerates itself still remaining itself